Translation: A French farmhouse, please!
I don't want to live in France, and I don't wish to be a farmer. But, someday, my dream is to build a french farmhouse. Most days, I'm scouring online pictures or creating my own imaginary dream design for the home we hope to build someday. I don't know exactly what elements of the 'french farmhouse' appeal to me the most, or maybe it's just the description itself that conjures up imaginary bliss. I'm not even sure I could find a perfect picture online that I could copy. Instead, I think it will someday just be a combination of the elements that I'm drawn to, and with any luck, it will be my perfect depiction of a french farmhouse! Below are a few ideas of exteriors I like. Of course, these could, and probably will, change tomorrow.
Picture #1: Not a farmhouse, exactly, but very French. Cozy, uniform, and just looks like somewhere I want to live. Love the rock wall and bronze gutters. I bet that fireplace is pretty fantastic, too!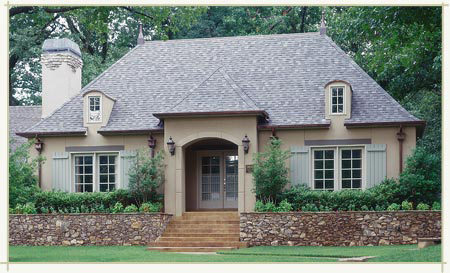 Picture #2: Whether this is the front entrance or not, can't you just picture adding this to a courtyard somewhere as part of my dream house? I love it! Wouldn't you want to have morning, or 5 o'clock, cups of joe on this courtyard? Heaven!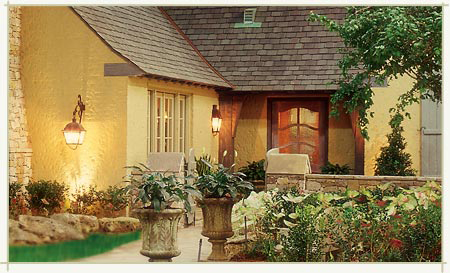 Pictures #3-5: Just some elements I think are beautiful - maybe I can add some of these in along the way!
The ceiling beams look very farmhouse-ish, love the open shelving (although this would never work, unless everything was display-only), and the overall rustic kitchen:
Large harvest table, french doors to a courtyard, floor to ceiling curtains, and I love the lantern!


A pretty authentic looking farmhouse!
I'll leave you with the below image. I think I could really enjoy some nice cups of joe in this outdoor space. Curled up in a blanket sitting next to a fire... Sounds pretty fantastic to me!
P.S. New cool google website:
http://translate.google.com/
Makes me think I can speak French... Yeah right! :)