Below are some of my favorite recipes. I call them Church lady recipes, because these are so perfect, and something you might often see, for church pot-luck-type functions. Still, though, they are amazing, and pretty simple to make. The first is maybe my favorite. For a while, I made fun of my mom for making this, but now, I'm totally sold. Church function, family reunion, school or work party - whatever! This is sure to be a treat for any occasion.
Lemon Drizzle Cake
1 pkg. lemon instant pudding
3 tablespoons fresh lemon juice
3 tablespoons of fresh lemon juice
Mix above ingredients together and pour into a well greased bundt pan.
Bake at 350 degrees for 37 minutes. (After several tests in my mom's kitchen. Basically, adapt based on your own oven, but somewhere in the ballpark of 37 minutes!)
Immediately invert onto cake stand, and drizzle the lemon glaze over the top of the cake.
With any luck, it should look something like this: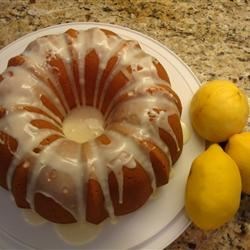 Completely church lady, but completely delicious!
Another favorite is the strawberry jello pretzel salad recipe. Anything "Jello" just screams church lady, doesn't it?!?! This recipe is seriously so good - yum!!
Strawberry Jello Salad
First layer:
2 c. pretzels, crushed
1/4 c. sugar
3/4 c. butter (1 1/2 sticks), melted
Second layer:
8 oz. cream cheese, softened
1 c. sugar
1 1/2 c. Cool Whip
Third layer:
2 c. pineapple juice
6 oz. strawberry gelatin
20 oz. frozen strawberries
First layer: Mix pretzels, sugar and butter. Press into a 9x13 baking pan. Bake at 350 degrees for 10 minutes and cool.
Second layer: Using an electric mixer, blend cream cheese and sugar. Fold in Cool Whip. Spread over crumb crust.
Third layer: In saucepan, heat juice and gelatin until dissolved. Mix in frozen strawberries and cool until slightly congealed. Spread over cream cheese mixture and refrigerate.
Prepare 1 day ahead if possible.
It should come out looking something like this: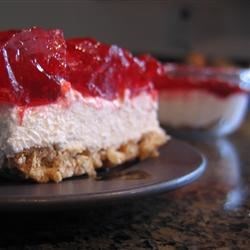 The next recipe is one of my grandmas recipes. My mom once submitted the recipe into, what else, our church cookbook, and didn't know what to call it. So, she dubbed these brownies as the Mother-in-law brownies. The name stuck, and this is something that my grandma made often. Definitely a family favorite for us. They're like a chocolate chip cookie in a brownie form - so yummy!
Mother-in-law brownies
1 (6oz.) pkg. chocolate chips
1/2 c. chopped pecans (optional)
Melt butter in large saucepan over low heat. Add brown sugar and stir until sugar is dissolved. Remove from heat and cool 5 to 10 minutes. Add eggs one at a time, stirring well after each addition. Add vanilla. Add sifted dry ingredients to first mixture. Add nuts and chocolate chips last. Spread batter onto greased jelly roll pan. Bake at 350 degrees for 12 to 15 minutes. Don't overcook. Cool about 15 minutes before cutting into squares or bars. Serves 25 to 30.
They should look something like this:
Enjoy!